This is a re-post from www.momzoolife.com
March 29, 2012
---
This salad is a lot like other salad recipes I have posted.  I love a good vinaigrette salad and I am always looking for different combinations of ingredients.  In this salad I especially loved the combination of bacon and feta cheese, very good!  I really liked this salad, Dadzoo liked this salad and about half of my little punks liked this salad (my children with the more mature palates).  It is defiantly a keeper!
Starting with the dressing we are going to need:
1 cup sugar
1 tsp salt
1 tsp dry mustard
1/2 cup red wine vinegar
1/2 olive oil (use the good stuff!)
1 tsp poppy seeds
Throw it all in a blender and mix well
For the body of the salad we will need:
2-3 Romain hearts shredded
(I was lazy and used a spring mix)
1-2 apples, chopped
1 pkg bacon, cooked and crumbled
1 pkg walnuts or pecans, chopped
1 pkg feta cheese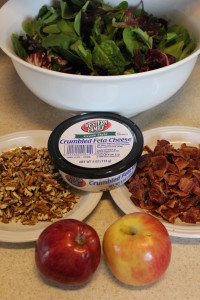 Toss all ingredients together with the dressing right before serving and enjoy!