Plantain is another favorite medicinal weed of mine. This plant can easily be found in lawns, cracks of sidewalks, along roadways and in abandoned fields. Plantain is native to Europe and Asia, and now can be found throughout North America.There are two main varieties of plantain: broad leaf and narrow leaf, both can be used medicinally and have the same action as each other.
Here at Quail Run Farm we cultivate the narrow leaf plantain in our orchard meadow.  It is one of the plantings I use around the base of our fruit trees. Plantain is a "pioneer plant" when the soil is harsh or has been disturbed plantain likes to come in and clean things up, making the environment more suitable for other plants. That is why you will find plantain along sidewalks and roads, and one of the reasons I have chosen it for planting in the Orchard Meadow.  The land here is very abused, very infertile, lacking organic matter and vitality.  Plantain has a deep tap root, it will going down into the soil, nice and deep breaking up hard dirt and adding organic materials.  At the surface it is great for "chop and drop", several times a year I can just cop the leaves and leave them right on the ground, thus adding organic matter and mulch, helping retain moisture and add fertility. However my favorite thing about plantain is its medicinal properties!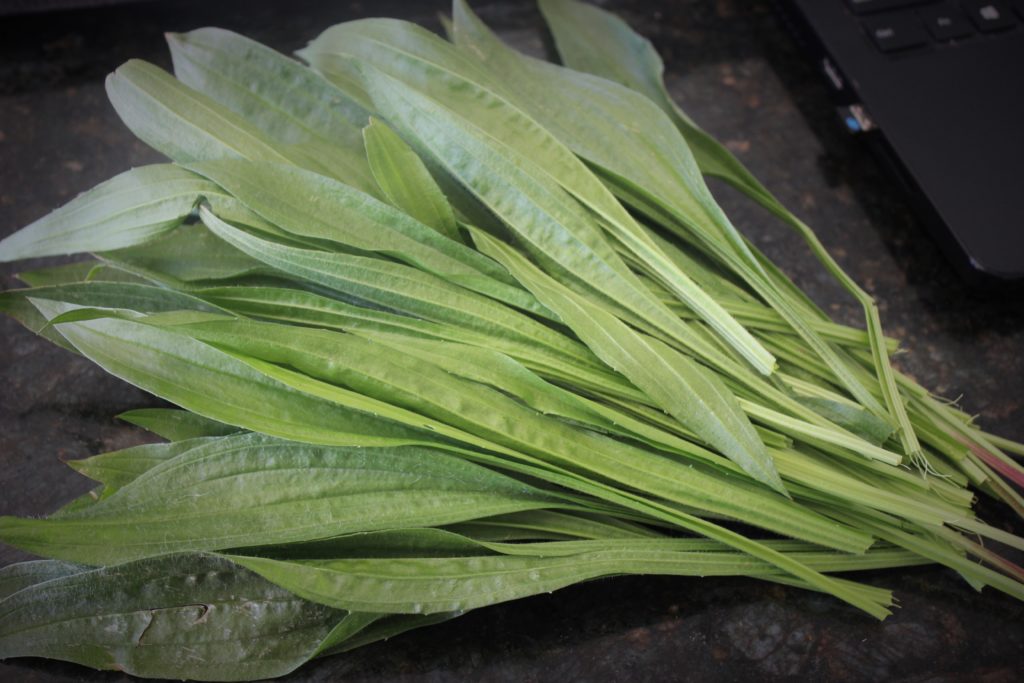 One of plantain's most common uses is as a poultice for stings, bites, scrapes and rashes. The simplest way to harness plantain's healing powers is to crush a few fresh leaves, and apply to the affected area. Replace fresh leaves as necessary. The fresh plantain "juice" takes the pain away and seems to work wonders at staunching blood flow and closing wound edges. It's also wonderfully refreshing and soothing to sunburn.

Plantain infusion (tea) can also be used as a soothing wash for sunburn, windburn, rashes, or wounds. To make a plantain infusion, simply add a small handful of fresh plantain leaves to a cup or two of water, and bring to a gentle boil. Turn off heat, and let steep, then strain out the leaves. The infusion is best when fresh, although it can be stored in the refrigerator for a few days.

http://www.prairielandherbs.com/plantain.htm
Whenever my children have a cut or insect sting, I walk out to the meadow, pick a leaf and chew it up (my kids think that is so gross) and apply a bit of the macerated leaf to the wound and cover with a band-aid.  The pain and irritation go away quickly and in the case of a open sore, heals very fast.
Plantain leaf ointment can stop itching faster than anything I've ever used, and it eases even the most intense itches. From diaper rash to flea bites, eczema to dry skin, plantain turns tears of pain to smiles of relief. New mothers swear by plantain ointment as a diaper cream, both to prevent and to treat diaper rash. It relieves the itch of heat rash and poison ivy/oak rash, too.
In the winter time, however, there is not fresh plantain available, it is sleeping deeply under the snow and frozen ground. My favorite way to preserve plantain for medical use is to make an infused oil.  It's a very simple process that I will walk you through.
After picking the plantain leaves I do a quick shake to get dust off, but I do not wash the leaves.  Any water left on those leaves may promote spoiling while it is infusing, and because my orchard is not sprayed I don't need to wash off any herbicide, and any other things that may be clinging to the leaves are good for our immune system and microbiology. I chop the leaves roughly and then pack them as tightly as I can in a quart canning jar, over that I pour olive oil, using a chop stick or butter knife to get out as many bubbles as I can.  The jar is then labeled with a date and stored in my pantry for six weeks.  When the six weeks are up the leaves are strained out and the oil is stored in a cool dark place.  This oil will be good for about a year.  The oil can also be used to make an ointment by adding bees wax, something I will be experimenting with this summer.
Plantain, another glorious weed, a treasure chest of healing right at our feet.